We few, we happy few,
we band of bikers!
The 1st Annual
Winston's Tweed Ride
was a rousing success! Nearly 40 ladies and gents, fabulously kitted out, enjoyed our civil meander past and into some of Chicago's (in)famous speakeasies. More pix
here
,
here
,
here
,
here
and
here
! And in honour of such an auspicious occasion, I have cribbed a bit from
Mr. Shakespeare's
St. Crispen's Day speech
...

If we are mark'd to ride, we are enow
To do our city good; and if to live,
The more nutters, the greater share of honour.
God's will! I pray thee, wish for one bike more.
By Jove, I am not covetous or bold,
Nor care I who doth join despite the cost;
It yearns me that nutters my tweeds wear;
Such outward things dwell much in my desires.

But if it be a sin to covet nickers,
I am the most offending soul alive.
No, faith, my coz, I wish I was a man from England.
God's peace! I would not lose so great an honour
As one bike more methinks would share from me
For the best hope I have. O, do not wish one less!
Rather proclaim it, Tweedyness, through my host,
That they which hath no stomach for this ride,
Let them depart; their Brit bikes shall be praised,
And tyres for convoy put around their necks;
We would sure ride in that one's company
That fears his fellowship to die with us.

This day is call'd the feast of Winston's Ride.
They that outlives this day, and comes safe home,
Will do a bike-lift when this day is nam'd,
And rouse them at the name of Winston.
They that shall live this day, and see old age,
Will yearly on the vigil feast their neighbours,
And say 'To-morrow is Winston's Ride.'
Then will they strip their socks and show their scars,
And say 'These wounds I had on Winston's day.'

Old farts forget; yet all shan't be forgot,
But they''ll remember, with advantages,
What drinks we did that day. Then shall our names,
Familiar in their mouth as household words-
Lee the Diamond, Pirogi John, Garth,
Aaron and Willow, Tank Ridin', Dottie-
Be in their flowing cups freshly rememb'red.
This story shall the old ones teach for fun;
And Winston's Tweedy Feast shall ne'er go by.

From this day to the ending of the world,
But we in it shall be remembered-
We few, we happy few, we band of bikers;
For they to-day that sheds their oil with me
Shall be my nutter; be they ne'er so vile,
This day shall gentle their condition;
And gentlefolk in Chitown now-a-bed
Shall think themselves accurs'd they rode not here,
And hold their bike frames cheap whiles any speaks
That rode with us upon Winston's Tweed Ride.
From
The Guardian
: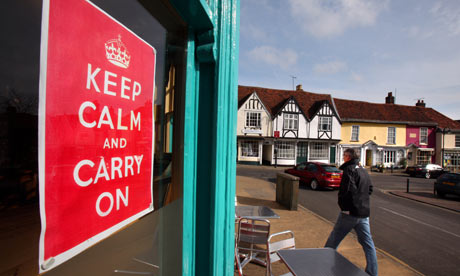 "...Back in the spring of 1939, it was an anonymous civil servant who was entrusted with finding the slogan for a propaganda poster intended to comfort and inspire the populace should, heaven forbid, the massed armies of Nazi Germany ever cross the Channel.
...[S]uddenly these days, it's everywhere, from homes to pubs to government offices. The Lord Chamberlain's Office at Buckingham Palace, the prime minister's strategy unit at No 10, the Serious Fraud Office, the US embassy in Belgium, the vice chancellor of Cambridge University, the Emergency Planning Office at Nottingham council and the officers' mess in Basra have all ordered posters. Even David Beckham has the T-shirt, we are told."
More here!