The Divide will be manageable by bike riders of any and every skill level. The Divide is 19 miles (elevation change of 1011′), The Divide+ at 31 miles (elevation change of 1236′) and The Divide Pro-Elite version at 51 miles (elevation change of 2292′). All three races will offer the option of Bike, Fat Bike and, Single Speed/Fixed Gear. Age divisions will be determined as well for each race and division.
The Divide will start in downtown Manton and head south and west towards the dirt roads that skirt the Manistee National Forest. The Divide standard event most roads are solid gravel roads with only a little sand and one slightly rougher downhill section dubbed the redneck roughneck. This ride is doable by any rider.
Those ramping up to The Divide+ and for our Pro-Elite race, will enjoy just a little two track in addition to the solid gravel roads.
The Divide Pro-Elite will do a double loop of the most challenging part of the course to add a bit more elevation and to challenge the stronger racers out there.
Longboard Racing!
On Sunday afternoon we will offer three longboard races:
The Divide LB will be one mile down into town from the West High Point. The course has total elevation drop of 151 feet over one mile with several turns and one small push to the final summit, from there you come ripping to the final turn into the finish.
The Divide+ LB is a 5K push with decent amounts of elevation change. We will have you drop into the event from the West High Point.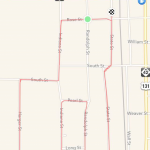 The Divide Slide/Trick Jam will be a free for all with riders showing their best stuff.
The Divide – Bike Race Pricing Options
All bikers/boarders pay a base fee which is:
Phase One before 7/3/16 $5.00
Phase Two before 7/17/16 $10.00
Phase Three 7/18/16 through Day of $15.00
Bikers then pay the following based on the race in which they plan to compete:
The Divide – Bike – 19 Miles $15.00
The Divide – Fat Bike – 19 Mile $15.00
The Divide – Single Speed/Fixed – 19 Mile $15.00
The Divide – Tandem Rider One – 19 Mile $15.00
The Divide – Tandem Rider Two – 19 Mile $5.00
The Divide+ Bike – 31 Miles $20.00
The Divide+ Fat Bike – 31 Miles $20.00
The Divide+ Single Speed/Fixed – 31 Miles $20.00
The Divide+ Tandem Rider One – 31 Miles $20.00
The Divide+ Tandem Rider Two – 31 Miles $5.00
The Divide Pro-Elite Bike – 51 Miles $25.00
The Divide Pro-Elite Fat Bike – 51 Miles $25.00
The Divide Pro-Elite Single Speed/Fixed – 51 Miles $25.00
The Divide Pro-Elite Tandem Rider One – 51 Miles $25.00
The Divide Pro-Elite Tandem Rider Two – 51 Miles $5.00