This was a frame built in 2010 by Michael Catano of Chicago's Humble Frameworks. It is constructed of vintage Columbus EL/SO tubing and rides like a Jaguar on two wheels. The bike was completed in late '09, built by me, and ridden less than 400 miles. It was never in any accidents.
There are absolutely no physical defects with the frame, I am selling it only because I need the money. There are two very small scratches on the non-drive chain stay, and some very small paint chips at the braze-on junctures, but the paint is otherwise impeccable. Blue, with silver pinstripes and a white panel on the seat-tube.
Measurements:
Fork has 22.5cm steerer w/ star nut already set.
53.5cm center-to-center top-tube, 53.5cm center-to-center seat-tube.
16cm steerer tube, 1.25".
68mm English-thread bottom bracket.
The geometry is ideal for non-competitive road riding. It is an ideal fit for a handbuilt steel bike enthusiast who stands between 5'8" and 5'10".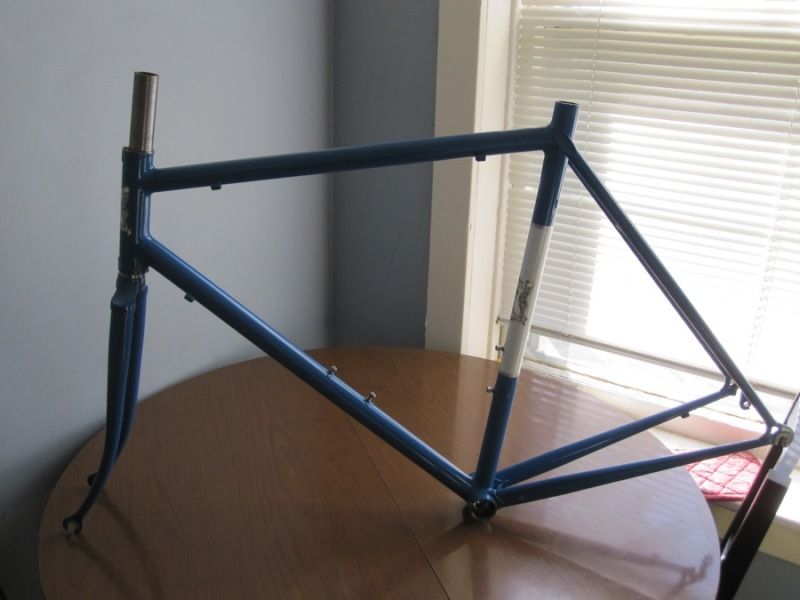 Frame and Fork
Bike as it looked complete
E-mail me at b @ benvanloon.com if you're interested. I'm thinking around $900. I also have a 1.25" Silver Chris King headset I can throw in to sweeten the deal.